Combining PE and Maths with AR Runner and Graphmented
One of the most exciting new features of Apple's iOS11 is the new ARKit and the possibilities with this new feature. The downside, as I discovered last week, the new AR apps will only work on devices with A9 or A10 chips. After installing these apps on most of our school devices, I quickly discovered they didn't work and had to change my plans quickly.
My Year 6 digital leaders did, however, get to try these apps out on my iPad. First, they started with the app
AR Runner
.
The app used AR to create checkpoints which you run to as a way to complete different challenges. It is a great way to combine technology with PE as the children are timed when completing the challenges. Word of warning though, make sure you have decent cases on your iPads as no doubt there will be a few accidents when your pupils are into the game.
The Year 6 pupils all had a few attempts of completing a challenge and collated their scores on a Google Sheet.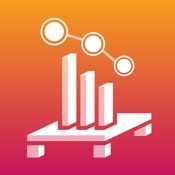 Using another Augmented Reality app -
Graphmented
, the children then displayed the results of their challenge by presenting the data in Augmented Reality. The children then recorded an explanation of the results and worked out the average time it took the group to complete the challenge.
Both apps have great potential to enhance learning in PE, maths and science, whether the majority of schools will be able to access these apps with the devices they have in school will be difficulty.